How To Hang A Hammock
How to hang a hammock:

There are a number of ways to hang a hammock, the most apparent being between two trees. Its fair to say not everyone lives in a jungle or has two perfectly placed trees in their back garden. Therefore we hope that you will find the following information useful on hanging your hammock correctly whether outdoors or indoors.

If hanging your hammock with ropes or a fixing set between; two trees, wall & wall or tree & wall does not take your fancy, you may wish to consider a Hammock Stand, which allows you to hang a hammock quickly and effortlessly.

We do offer a wide choice of Hammock Stands and Hammock & Stand Sets for a hassle free siesta in our online store. Stands are available in weather proofed wood or powder coated steel!

Quick Links:

> Choosing your hanging location

> Selecting suitable hammock fixings

> Calculating your hanging distances

> Hanging a Spreader Bar Hammock

> Hanging a Classic Hammock (non Spreader)

-------------------------------------------------------------------------------------------------------------------------------------------------------------------------------------------------------

Choosing your hanging location:





If you wish to hang your hammock from a tree, post, wall, ceiling or hammock stand?? Not a problem! It is possible to suspend your hammock from any solid, secure support providing you use the correct hammock fixing set, hammock fixing part or compatible hammock accessory. Please see 'Selecting Suitable Hammock Fixings'

Tree(s): A healthy tree trunk(s) should be no less than 12" in diameter. Either screw in a semi-permanent Hammock Hanging Hook, and/or use compatible Hammock Hanging Ropeswhich are quick to install, adjustable and removable to suspend your hammock from.

Post(s): If without appropriate rooted trees, well footed posts are a great alternative. The timber should be weather treated hard wood (not soft wood), without cracks or wood rot. A post should be no less than 4"x4" in thickness and be secured into a solid concrete footing. Like attaching to a tree, either screw in a semi-permanent hammock hanging hook, or use compatible hammock hanging ropes which are quick to install, adjustable and removable.
Wall(s) / Ceiling: Choose a solid secure wall only (not a stud hollow wall), or a secure joist if suspending from the ceiling. A suitable factory approved hammock wall or ceiling fixing hook is recommended. Please view our Hammock Fixings and Accessories for a full range of suitable hammock fixings.
Hammock Stand: Hammock Stands are the perfect hassle free option, available in weather proofed wood or powder coated steel. Wooden hammock stands can be adjusted to suit most size spreader bar and non-spreader bar hammocks, using an adjustable chain. Metal hammocks can be adjusted in length and height to suit most size hammocks, and tend to be cheaper in price. See Wooden and Metal Hammock Stands

Selecting suitable hammock fixings:





There are numerous fixing accessories on the market that enable you to fix and hang your hammock to a suitable support. Here at Westmount Living, we offer a vast range of fixing parts & accessories in our specialist online UK hammock store - The Hammock Shack. Including ready made hammock fixing box sets; the Practico Hammock Fixing Set a set perfect for hanging your desired hammock between two trees or posts. Or, the Allround Hammock Fixing Set ideal for hanging your hammock in a number of ways; between two trees / posts, tree & wall, wall & wall, wall & ceiling etc - anywhere suitable! Please visit Hammock Fixing Sets and Accessories for our full range of fixing accessories.


Calculating your hanging distance:
The recommended average hammock fixing height from the ground, whether using Hammock Hanging Hooks or Hammock Hanging Ropes is between 3-5 feet for spreader bar (rod) hammocks, and 5-8 feet for non spreader bar hammocks - depending greatly on the length of the hammock. As classic non-spreader bar hammocks droop in the middle, the fixing height needs to be higher.
The General rule of thumb when calculating the optimum hanging height and distance for your hammock is as follows:
CALCULATING HEIGHT TIP! The fixing point height for a classic (non-spreader bar) Hammock should measure at least 40% of the total length of the hammock, and at least 25% for a Spreader Bar Hammock, or no lower than 5 and 3 feet respectively.
CALCULATING DISTANCE TIP! The distance between your supports should - for a classic hammock - be at least 90% of the total length of the hammock. Or, for a spreader bar hammock at least 120% of the total length.

Calculations should be used as a guide only, and your hammock should be fitted to suit your personal requirements.


Hanging a Spreader Bar Hammock:



The minimum distance required must be equal to the total length of the hammock when fully taut. For example the minimum fixing distance for a 12 foot spreader bar hammock would be 12 feet. If the fixing points are wider than 12 feet, suitable Hammock chains, or Hammock ropes can be used. The same rule applies if you were using a Hammock Stand. If additional hammock rope is required, avoid using more than 1.5 feet of rope on each side - a total of 3 feet - to minimise risk of injury. The further the distance between the hammock and the supports, the easier the spreader bar hammock can rotate and tip over. A spreader bar hammock must be fully taut before laying / sitting on.
We recommend that the distance between supports should measure approximately 120% of the total length, and 25% for optimum height of a Spreader Bar Hammock. For example the total distance between supports for a 12 foot spreader bar hammock should be approximately 14.4 feet, with a fixing height of approximately 3 feet for optimum hanging. (Please refer to image below)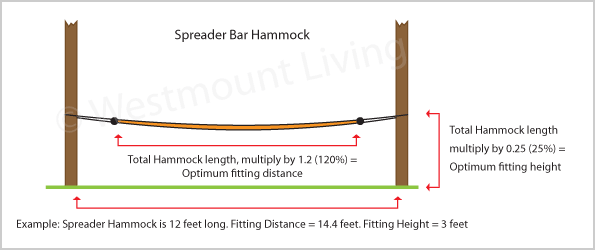 Hanging a Classic Hammock (non-Spreader Bar):



The distance to hang a non-spreader hammock is much more flexible than hanging a spreader bar hammock, and are designed to dip when hung, unlike a spreader hammock that must be taut before laying or sitting on.
The distance of the fixing supports (ie Tree or Post) for a 12 foot classic hammock does not need to be as far apart as if you were hanging a 12 foot spreader hammock - as the classic hammock must not be hung taut and should dip in the middle. Therefore the distance (from tree to tree, wall to wall or wall to tree) should measure 90% of the total length of the hammock.
For example: the distance between supports for a 12 foot classic non spreader hammock should be approximately 10.8 feet for optimum hanging - taking into account the height of fixing points should measure at least 40% of the total length of the hammock - which is much higher than if you were hanging a spreader hammock. Hammock Hanging Ropes or Hanging Chains are also recommended. The maximum distance should not exceed more than 2 feet over the minimum distance for a comfortable diagonal lie. (Please refer to image below)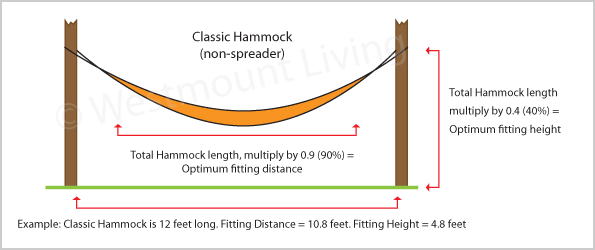 -------------------------------------------------------------------------------------------------------------------------------------------------------------------------------------------------------

We hope that you have found this information useful. Should you have any questions please feel free to Contact Us
To make buying a hammock set hassle free, we have created suitable hammock and rope sets and hammock and stand sets. No additional parts will be required to relax in style in your home or garden
Other Useful Articles: